OUR MISSION
We seek to create a hands-on learning experience within a student-centric culture that teaches industry relevant skills, fosters ingenuity, nurtures teamwork, develops critical thinking, and has a transformative impact on students seeking professional success in order to advance our communities.
OUR VISION
Founded to deliver effective, quality education focusing on application of technology, SCIT will be a leader in producing technological talent by:

Affording the opportunity for students to apply their knowledge and reinforce their learning through hands-on instruction;
Fostering ingenuity and a mindset of intellectual curiosity;
Empowering students with the industry relevant knowledge and skills to seek greater opportunities;
Supporting a dynamic faculty dedicated to teaching, mentoring, and encouraging students;
Offering comprehensive curricula that is responsive to the needs of students, employers and communities.
OUR VALUES
We value an academic culture of integrity, accountability and diversity, thus enriching the learning environment and preparing our students to succeed as industry and community leaders.
DIVERSITY, EQUITY, INCLUSION
SCIT is committed to creating a diverse community that is inclusive, responsive and supportive of each and all of its students, faculty and staff. The institute seeks to promote diversity in its many forms, including, but not limited to, ethnicity, gender, age, religion, disability, sexual orientation, place of origin and socioeconomic status. The institute recognizes that students benefit from a learning atmosphere that is inclusive of participants from all manner of backgrounds, and encourages students to maintain diverse perspectives throughout their lives and strive to be responsible members of our community grounded on shared principles of fairness and respect toward one another.
A Different Educational Model
Front-Loaded & Milestone-Driven
WHAT IS THE MODEL?
Take shorter programs first to acquire the skills needed for employability. Build up from there by working while studying toward a degree.
WHY THIS MODEL?
It's a fast-track route to begin a technical career. Work experience is not only valuable to employers, it helps students better connect concepts in the classroom and makes learning more engaging.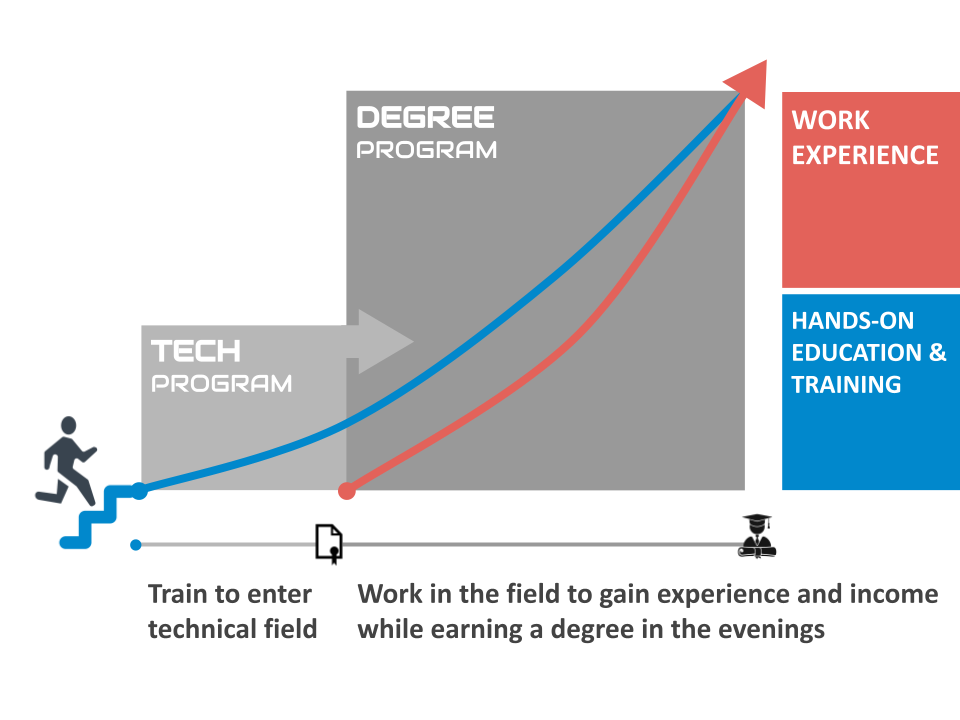 Our programs are focused, accelerated and targeted in building your knowledge and skillsets to enter and advance in a technical career.
STUDENT FIRST APPROACH
College services designed for busy students who are often working and juggling other responsibilities alongside schoolwork
Managed Schedules
We manage your course schedules and books.
Flexibility To Take Leaves
Explore
Our Programs
Begin by completing a diploma, seek an entry-level position while continuing your studies in evenings to earn a degree. At the end, you would have earned a diploma, a degree, and gained work experience to open further career opportunities. Students also have options to enroll only in diplomas or degrees to complete even sooner.
Fully Online Options